"Some books leave us free, and some books make us free"
-Ralph Waldo Emerson
SCARS: The Roadmap to the Soul
Her second book soon to be released, SCARS, connects her life experiences, life experiences of well-known people who lived in ancient biblical days, and those living in our current day and age, experiencing psychological, emotional, and spiritual pressures. The hardships we all face are yet under the guiding hand of a loving God that desires a love relationship with us. Maxine's unique writings intricately weave stories of scriptural truths and life's weights of depression, anxiety, tension, burdens, death, and spiritual darkness into a love story that changes our perspective of "why bad things happen to good people". Watch out, Maxine's third book is in the works, "Life Seekers, God's Pursuit".
$19.95 (Paperback) $9.99 (Kindle)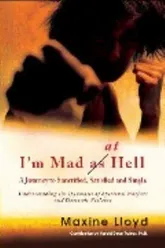 I'm Mad at Hell: A Journey to Sanctified, Satisfied, and Single
Maxine's first book, "I'm Mad as at Hell, A Journey to Sanctified, Satisfied, and Single - Understanding the Dynamics of Domestic Violence and Spiritual Warfare connects the natural dynamics of domestic violence and the spiritual warfare that fuels the horrendous trauma that both men and women have inflicted on one another.
$16.99 (Paperback) + S&H $5.00
*provide shipping address in notes